SWEDISH BOARD GAME TABLES
Try our GENIUS tool to give you an insight of which of our tables is the right one for you.
Our board game tables have many customizable features. It's not only the height, length and width you can adjust. We offer some mayor tailored aspects like the wood and it's finish, color of the fabric and the design of the legs. Of course you can choose from some of our GENIUS accessories such as LED in the arena that can give EVERY player it's OWN color!
Unsure about the size of your soon-to-have board game table? Explore our size-helping blog to determine the ideal measurements for the best table size for board games in your board gaming man cave!
Playing boardgames like a KING!
There are many variations of our gaming tables. But there are certain tables with qualities that are just a bit more likeable, so we made a couple of these GENIUS tables that you could easily buy straight away. Check our store for the supply.
French Oak with a white oil finish
6 players
Length x width x height = 1,80 x 1,15 x 0,79m
Marine blue velours arena
Arena depth including inlay: 50mm
Including RGB LED in the arena
Black kryptonite legs
Oak
4, 6 or 8 players
Length x width x height = Customizable
Velvet Arena
Arena depth including inlay: 50mm
Black kryptonite legs
A lot of accessories
Table nr. 1, Owners edition
Walnut Oak
8 players
Length x width x height = 1,90 x 1,00 x 0,79
Special velours, multi coloured arena
Arena depth including inlay: 50mm
Old skool, no lighting
White U-shaped legs
WE MADE THEM AWESOME! Our Swedish board game tables are one step ahead and they will be the center of your Board Gaming Area!
Let Genius Game Tables elevate your game. Your home is your castle, so why not have a board game table that matches? We make finely crafted tables designed to leave anyone who sees it speechless.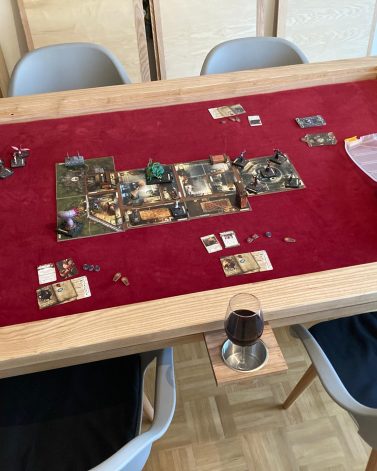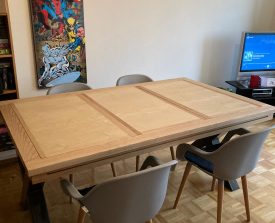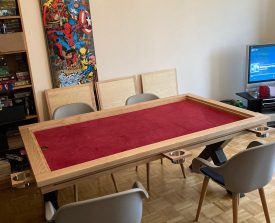 A super nice dining room table that I can easily transform into a game table. They give great advice after the concept design. It took a while from design to the actual table. But then you also have a really good quality table that can last for years!
"Highly recommended to have your table or other furniture made here!!"

Hey there! Are you ready to transform your home into the ultimate hub for family fun and quality bonding time? Well, you're in luck! ...